Welcome to the Galaksija Emulator pages.

Everything on this page is Under Construction. This homepage is just a temporary home for the Galaxy Win emulator.

The Emulator is just a port of the DOS emulator Galaxy by Miodrag Jevremovic. It uses a different Z80 engine (a lot of bugs in the DOS version), better keyboard, screen and character generator handling. Basically most of it is rewritten.

I ported it to Windows to support the 'new' Galaksija built by Zoran Boskovic.
You can get schematics and everything you need to build it yourself, including the info on everything else Galaksija related on the www.galaksija.org homepage.

You can Download the version 0.3 of the emulator here : GalaxyWin03.zip

And here are some Games, mostly taken from the Svet Kompjutera Magazine.
You can read instructions and see the listings if you click on the number beside the name. Enjoy !





Coming Soon - Galaksija Plus with High-Res Graphics!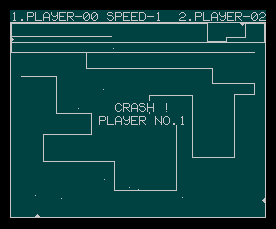 NEW! - Magazine Scans page with A LOT of HQ scans from ex-YU magazines with information mostly on all aspects of Galaksija but also some stuff for ZX Spectrum and Commodore 64 Click here !

This is the final version of the Windows port of Galaxy since I am already working on my own, new emulator which will also support the features of Galaksija Plus that uses more memory, three channel sound and high-res graphics, tape support, etc. When it is released it will be announced here.

A few words about the Galaksija computer. It was a low-cost computer mainly produced as a kit so you could build it yourself at home using TTL logic chips and was only sold (to my knowledge) in the countries of ex-Yugoslavia. It had 4k (or 8k if expanded) ROM and from 2k to 6k RAM (later expanded to over 48k). A Z80 running at around 6Mhz (3Mhz of which went to building up the screen) and a Text mode with very low-res graphics (look at the screenshots). It was a bit better than ZX-81 but nowehere as powerfull as the ZX Spectrum. Local newspapers and radio stations regulary published very good machine code games and programs which really squeezed everything out of the little machine. Some of these you can download here and try on the emulator.

Please note that the Galaxy Win uses a DIFFERENT snapshot format than that of the DOS version. The Windows port CAN read the DOS snapshots though, but it will only save in the new format. This format is also NOT FINAL since my new emulator will probably use some more structured snapshots which will also support the features of the Galaksija Plus .

If you have Svet Kompjutera Magazine years 1984-1986 or if you have Galaksija magazine which contained info/programs/games for the Galaksija computer or any other stuff (games, tapes, info, etc.) that might be interesting then please do email me on the following address : tomcat@sgn.net Thanx!